Teaching critical thinking in the teen and young adult classroom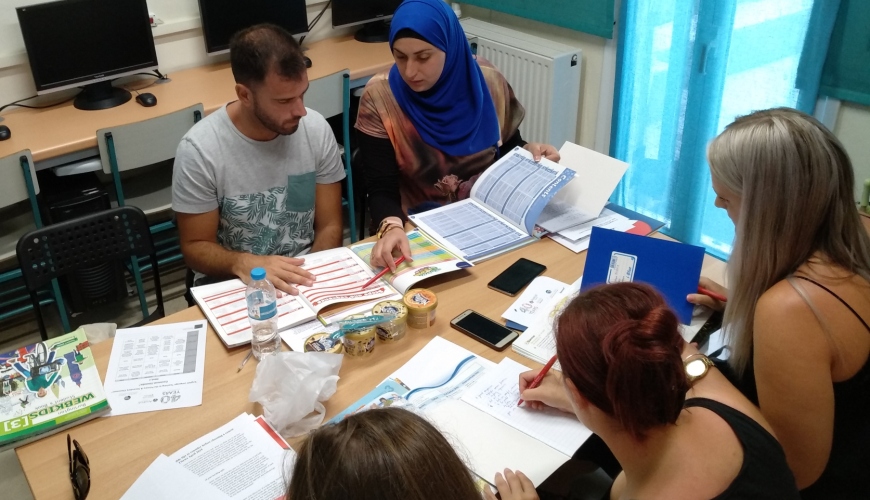 COURSE DESCRIPTION
Intro
Teaching teens can be both rewarding and troublesome. Key to unlocking their potential is helping them to discover their own innate source of motivation. In a world where passive consumption of information has become the norm, and many teens, especially in the developed world, are disillusioned with the adult world ahead of them, educators often struggle to find ways to spark their interest and instil a love of learning, especially when exams, grades, and league tables are priorities. This two week-long course, aimed at teachers and educators in all disciplines, introduces a toolbox of practical approaches for adapting and re-packaging syllabus material in practical ways that are not just engaging, but will help teachers to encourage teens to take charge of their own learning through developing their critical thinking skills and leading them to give the answers to their own questions.
The methods introduced are hands-on, require minimal additional resources, and can be implemented in any teenage classroom with or without technology. This course is aimed at educators working in the field, as well as newly qualified teachers and authors/editors of educational materials.
Objectives:
At the end of the course, attendees will be able to:
– Understand, explain, and observe the significance of critical thinking in the teen and young adult classroom
– Have an increased awareness of the issues surrounding learning in different contexts; factor in the learning/cultural environment; communicate on educational issues on a broader level
– Adapt their syllabus material to foster critical thinking rather than passive "chalk and talk" teaching.
– Engage students to take a pro-active interest in their own progress
– Identify and prepare resources and activities to foster creative and critical thinking in the classroom.
– Develop students' ability to problem-solve and achieve independent study
– Use and create their own activities to promote critical thinking abilities in the classroom
– Prepare a monthly or yearly teaching schedule incorporating critical thinking in their syllabus
– Identify and seize teachable moment opportunities "on the fly" in the classroom to demonstrate and develop critical thinking in their students
– Use the Socratic method to stop "feeding information" and begin teaching students how to learn (and love it!)
– Improve communication and group dynamics in the classroom with pair- and group- work (incl. mixed ability classrooms)
– Assess and evaluate students' progress after integrating critical thinking methods
Destination:
Corfu is a beautiful green island, which enjoys a mild Mediterranean climate. Corfu is a very popular tourist destination. Up until the early 20th century, it was mainly visited by the European royals and elites. It is still popular with the global elite. The island's history is laden with battles and conquests. Corfu was long controlled by Venice and repulsed several Turkish sieges, before falling under British rule following the Napoleonic Wars. Corfu was eventually ceded by the British Empire along with the remaining islands of the United States of the Ionian Islands, and unification with modern Greece was concluded in 1864 under the Treaty of London. Corfu is renowned for its long tradition and rich culture which is unlike any other Greek island. In 2007, the city's old city was designated as a UNESCO World Heritage site. Here you will also discover a compact world of beautiful beaches and stunning mountain peaks, ancient ruins and picturesque villages. There is something for everyone on the island, whether you prefer peace and quiet or a lively cosmopolitan destination.
Get info about this course! We will get back to you as soon as possible with further details!
Course Features
Lectures

0

Quizzes

0

Duration

1 week

Skill level

All levels

Language

English

Students

15

Assessments

Yes